To some it may just be grass, but to many it is so much more than that. Our lawn is where we spend our summers here in MN, enjoying the great outdoors. You want to ensure that it is thick and weed free, and we are here to make it happen. Make sure that you are the envy of the neighborhood, not the other way around. From setting up your sprinkler system to checking your soil contents and applying soil amendments or fertilizer, we can help you every step of the way.
Mowing
Don't let anymore of your summer go to waste than you need to. Let us make your lawn beautiful each week so that you can come home and enjoy more of it. We keep our blades sharp, so that your lawn will be too!
Core Aeration
It's important for your lawn to be able to breathe, and to keep the soil from getting too compacted. We recommend aeration twice a year, to help keep the soil loose and promote a stronger root system in your lawn.
Fertilizing & Weed Control
Fertilizing along with proper weed control and prevention will keep your lawn looking great all summer long. Let us make your lawn the envy of the neighborhood this summer!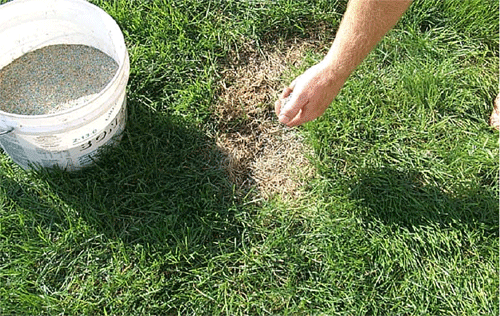 Overseeding
If you're noticing thinning areas or bare spots in your lawn, its a good idea to overseed those areas. Rather than need to apply new sod, overseeding can be a great option to get back the thick lawn you desire. A full, thick lawn is one of the best methods of keeping weeds at bay.
Sidewalk, Driveway & Bed Edging
A sharp edge makes your lawn look great. Grass can grow out of its boundaries, onto driveways and walks and into beds. Edging 1-2 times a year will keep the grass in check, and your lawn looking great.
Spring & Fall Cleanup
It's important to get leaves picked up each fall. A proper cleanup will help your lawn get through winter, and keep it looking well groomed until the snow flies.
In the spring, getting your lawn cleaned up can be incredibly beneficial. It jump-starts the recovery process, and brings back your lawn faster and more full!
Irrigation Maintenance & Repair
If you are noticing issues in your sprinkler system or dry spots on your lawn, it's best to fix them before more damage occurs. We can help with all of your irrigation needs; from simple repairs to major overhauls. We are also able to help keep your system maintained.
Tree Removal & Trimming
We can help with all your tree servicing needs, from a light trimming to complete removal. We can also help grind down pesky stumps, or completely dig them out if you prefer.
Dethatching
Thatch buildup is common in lawns, and dethatching each season is a great idea. If you've ever looked at your lawn closely, you may find a buildup of dead grass on top of the soil. This is what is known as thatch. If this gets too thick, the health of your lawn can quickly deteriorate.